&nbsp Free Shipping &nbsp | &nbsp Free Returns &nbsp | &nbsp PayPal Buyer Protection &nbsp

Shopping Cart & Checkout
---
Email & Shipping Address Is Collected Via Paypal ( next page )
No Registration Is Required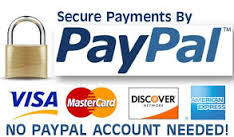 Please Read:
Your order will be shipped to the address you enter on PayPal site (next step).
Payment Via PayPal Or Credit / Debit Card Or Bank Account.
Your card statement will show: "Webcortex" .
Enter your accurate email & shipping address directly on PayPal site (next step).
Email confirmation with order details will be sent to the email address you enter next step.
Shipping to United States only.
By placing an order you hereby agree to our terms as outlined on footer links below.

Our Services:
FREE Shipping
Tracking & Notifications
Zero Sales Tax
Instant Order Processing
Fast Delivery
FREE Returns

---
RELATED ITEMS
---